The Choosi Digital Finance Trends Report 2021
As waves of fintechs roll into the market, it's time for us in Australia to set sail for better financial literacy to take advantage of these new opportunities.
From Buy Now Pay Later (BNPL) services to cryptocurrencies, new and more complex financial products are quickly emerging and gaining popularity. However, our latest research suggests many of us could be adopting solutions we might not fully understand.
The Choosi Digital Finance Trends 2021 Report forms part of the Choosi Research Series. In its latest instalment, this study dives into the key barriers and drivers behind financial and social behaviour in today's modern society. It explores Australians' financial attitudes and behaviours towards digital spending, online trading and investments and our financial literacy of the increasingly popular new technologies we are using today.
While some Aussies have a good grasp of their finances, others aren't confident in the basics. For example, 2 in 5 Aussies (41%) claimed to have no idea what their credit score is and nearly 1 in 3 (31%) said they have minimal to no confidence at all about the things that can impact their credit score.
BNPL is also on the rise in Australia with many of us now using it to pay for our shopping trips. One-third of us (36%) already use it, with 1 in 5 (20%) doing so frequently. However, most people aren't aware that BNPL shows up on your credit history (63%), or that it could impact your future loan assessments (57%) which is concerning with 21% of BNPL users admitting to being late in their repayments recently.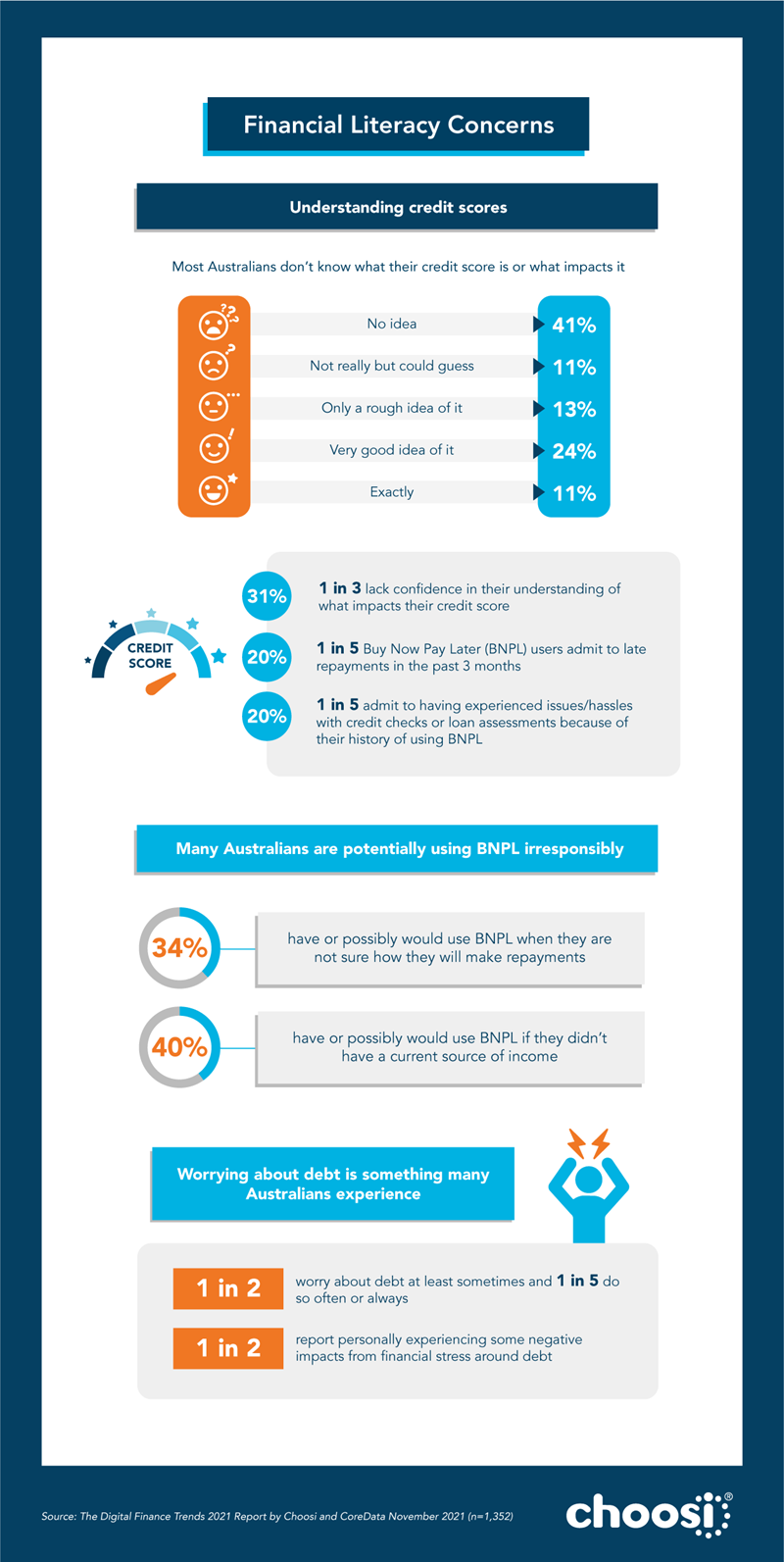 With many Aussies looking to avoid interest payments (43%), high credit fees (29%) and having to worry about credit card approval (32%), the BNPL trend is here to stay – but we all need to be aware of the benefits and risks to make the right decisions for our financial circumstances.
The need to improve financial literacy as our technology evolves is heightened by the fact that Aussies worry about their debts (50%).
Aussies curious about cryptocurrency
Australians are also increasingly looking to dip their toes in crypto waters. One in 10 people are already crypto investors, many of whom are planning to invest more.
The appetite for cryptocurrency varies between generations, with Gen Y leading the way when it comes to crypto adoption. In fact, they're three times more likely than Gen X to already be crypto investors (19% compared to 6%) and over four times more likely than Baby Boomers (4%). Gen Z are also more inclined to consider this type of investment than older generations.
For Aussies surveyed, the top reason given for investing in crypto is simply the fun and excitement of embracing a new asset class. Many people also said they're in it for potential long-term growth opportunities, strong short-term returns, transaction privacy and because they trust it more than other financial assets. As crypto evolves from being a hard-to-reach to an accessible asset class for ordinary Australians, adoption is growing.
The everyday Aussie isn't always familiar with the risks and benefits different classes of crypto assets hold. Surprisingly, even some surveyed crypto investors (38%) have little or no idea how it all works. This is another important reason to improve financial literacy programs in Australia.
From the pocket to the phone: Aussies moving to digital wallets
The convenience of digital payments is fast-tracking the move to a cashless society and while this simplicity is allowing some people to better manage their money (60%), for most it makes it all too easy to spend without thinking about it.
Many Australians are more likely to buy certain things now because digital payments are so easy and discrete – mainly ordering takeaway (41%) and impulse shopping online (40%).
For most of us, digital wallets are now part of everyday life. Just under half of all Aussies (44%) use digital wallets at least sometimes for everyday purchases, while many (21%) use them always or most of the time. A large slice of our population (42%) now rarely or never use cash and many digital wallet users (32%) even said they would never go back to using cash.
Contactless pay is the top reason we use our digital wallets (48%), highlighting just how much the pandemic has shifted our buying behaviours.

Given so many Australians say they're stressed about debt – and purchases are now just a tap away – it's time to work on our lifelong money management skills so we can all take advantage of post-pandemic opportunities.
With the speed of financial innovation outpacing our financial literacy, it's time to accelerate our learning through education.
Practical academic, Whitely Bradford, who specialises in financial literacy at Griffith University shared some tips for Australians on how to improve their financial literacy:
Read personal finance books (for example: Total Money Makeover by Dave Ramsay, Sort Your Money Out: And Get Invested by Glen James) and listen to podcasts (for example: My Millennial Money and She's on the Money).
Speak to a money coach or financial adviser, they have a lot of knowledge and love to educate people to make better financial decisions.
Find a mentor, someone who has been successful financially and you can learn from their success and failures.
Learn to want less. When you adapt your mindset to wanting less material things, you tend to spend less and you can become more conscious with how you spend your money.
Play around with online calculators (debt repayment, superannuation and retirement calculators) - the ASIC MoneySmart website has a lot of great resources available.
6 Dec 2021