15 places in Australia to travel with your dog Travelling with your family means happiness, making memories and exploring new, unspoiled destinations. Happy as they are, an absence such as your dog, might mar these memories.
However, it isn't easy planning a holiday around our four-legged family members. From finding pet-friendly holiday locations and accommodation to maintaining a safe environment for your dog while holidaying, options can be limited. Fortunately for you, we've already identified several dog-friendly holiday and adventure destinations! Read through our handy list of destinations (and safety tips), and choose the one right for every member of your family (including your dog).
New South Wales
Delicate Campground, Goolawah Regional Park, Crescent Head
On New South Wales' North Coast lies Goolawah Regional Park, a dog-friendly campground surrounded by kilometres of sheltered leash-free dog beaches. The campground has picnic tables, an amenity block and barbecue facilities where you can cook up some sausages for both you and your dog.
Rainbow Loop Track, Orara East State Forest, Coffs Harbour
Enjoy the beauty of a subtropical rainforest just 30-minutes' drive from Coffs Harbour at the Orara East State Forest. The area features four dog-friendly different walking tracks including The Rainforest Loop Track.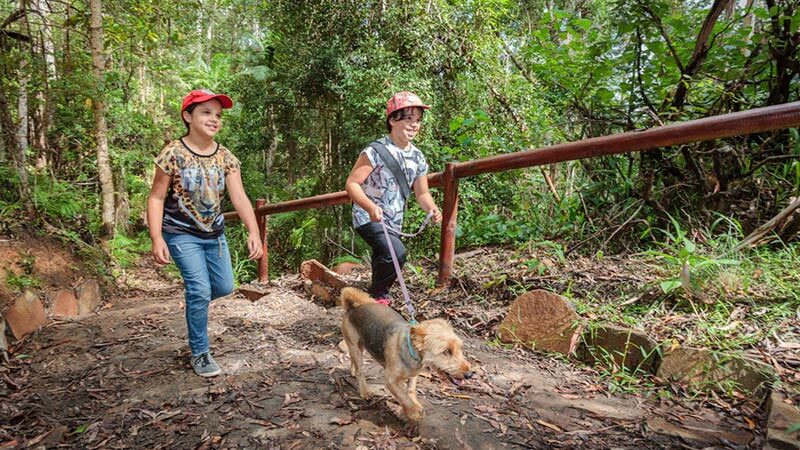 Reproduced with permission from the Forestry Corporation for use on the Choosi website.
Callala Beach, Shoalhaven
On the south coast of New South Wales is Callala Beach, a beautiful coastal town in Jervis Bay with picturesque dog-friendly and leash-free beaches, nearby creeks perfect for fishing, and plenty of pet-friendly accommodation from luxury beach houses, bayside holiday houses, caravans and camping sites.
Even though the beach is a leash-free zone, areas like car parks and paths leading to the beach will require you to have your dog on a leash.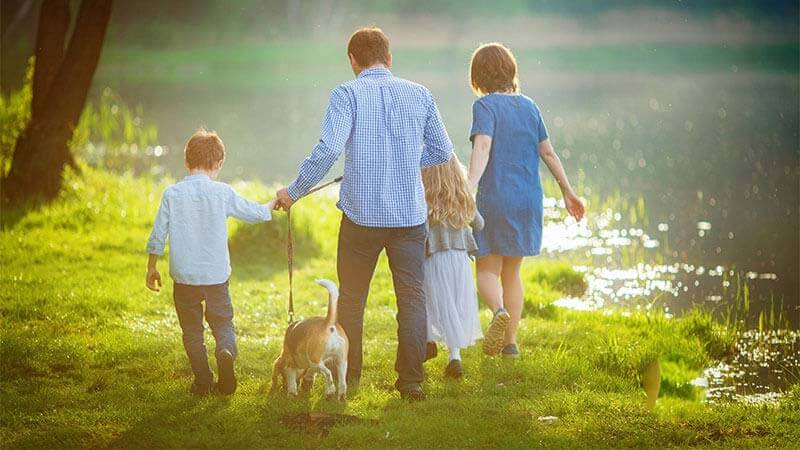 Australian Capital Territory
Uriarra Crossing, Uriarra Road, Murrumbidgee River
A little way out of Canberra, the Uriarra Crossing in Murrumbidgee River is a perfect place to go day-tripping with your loved ones. Head out with a picnic basket and your swimmers because the river banks are great for your family and your dog to swim in. Since both, the east and west banks of the river are off-leash areas, your dog also has plenty of space to explore the river bank upstream. Since the banks slope gradually and the river bottom is sandy, it is easy for more timid dogs to enter the water too. Remember to carry rubbish bags with you because there aren't any bins in the area which means you will need to carry all waste back with you!
Victoria
Great Otway National Park, Southern Victoria
Along the Great Ocean Road are the Otways, considered to be the home of some of Australia's most beautiful rainforest scenery. Head to the beach, walk through stretches of national park to see the rainforest and waterfalls or go camping around the lake! The Otways are also home to the Great Otway National Park and Otway Forest Park – places that you can go walking with your dog. Dogs are also allowed in areas like the Cape Otway Light Station carpark, Johanna Beach camping areas and more.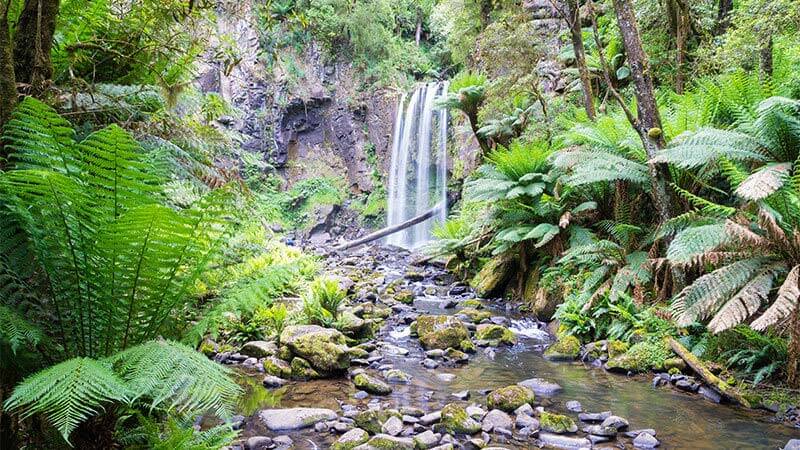 Hepburn Regional Park, Daylesford
A couple of hours outside of Melbourne, lies the Hepburn Regional Park. Located around mineral spring townships and gold mining era relics in bush surroundings, it's a beautiful park for a picnic or a short camping trip. The area features an extinct volcanic crater, blow-holes and much more to see. It is also a dog-friendly area where you can go bushwalking. It is important to remember to manage waste, carry water and remember to always keep your dog on a leash.
Queensland
The Spit, Gold Coast
The Spit is a 5 km long sandy isthmus starting from Main Beach and stretching all the way to the seaway where Broadwater meets the Pacific Ocean. The Spit is a popular location for fishing, swimming, boating, bushwalking and relaxing. For dogs, there is a 3–4 km open area where your dog can run and play. Broadwater Beach is dog-friendly and there is a 6 km coastal bushwalk called Federation Walk which is also dog-friendly.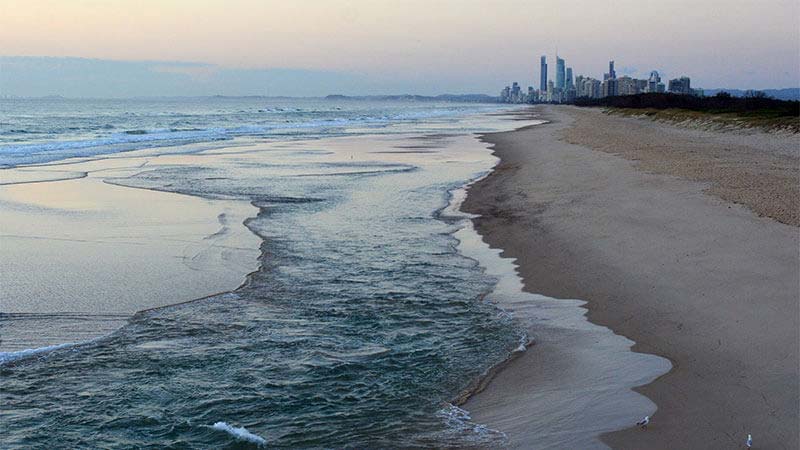 Amamoor State Forest and Forest Reserve, Sunshine Coast
If you're after more of an adventure, about 180 km north of Brisbane is the Amamoor State Forest Reserve where you and your dog can camp at the Amamoor Creek camping area. Go on a hiking trail with your dog and explore the lush flora of the rainforest, creeks, waterfalls and waterholes. There are four different hikes to choose from. Just remember to carry plastic bags to clean up after your dog and always keep a leash on your dog when in the Amamoor Creek camping area.
Tip: There are two camping areas in Amamoor State Forest, the Cedar Grove camping area and Amamoor creek camping area. Dogs are only permitted in the Amamoor Creek camping area.
Northern Territory
Casuarina Beach, Darwin
Casuarina Beach is the city's most popular and longest beach stretching about 8 km from one end to the other. However, only the first section of the beach from Rapid Creek to Dripstone Cliffs is dog-friendly. If your dog loves to meet and play with other dogs, every afternoon the area is filled with playful canines. Once you've been to the beach, wander up to Dripstone Cliffs to have a picnic dinner while watching the red sun set over Darwin Harbour.
South Australia
Sturt Gorge Recreation Park, Adelaide
Home to a rock formation known as the Sturt Tillite, believed to have been formed from glacial material 800 million years ago, Sturt Gorge Recreation Park is a must-see. Along with being home to beautiful natural history, the park is also dog-friendly. Some of the things you can see and do with your dog include hiking along the River Trail alongside the Sturt River while discovering the beauty of Sturt Gorge, stopping to swim at the waterholes along the way. You can alternatively take the Walk the Dog trail, a shorter and easier hike.
Lyrup Flats, Murray River National Park, Katarapko
Situated within the Murray River National Park, Lyrup Flats is 2,000 hectares along the floodplain near Lyrup. With areas for fishing and camping, it's a great place to spend a day exploring with your dog. Remember to keep your pooch on a leash and carry plenty of drinking water and plastic bags to pick up any mess they make.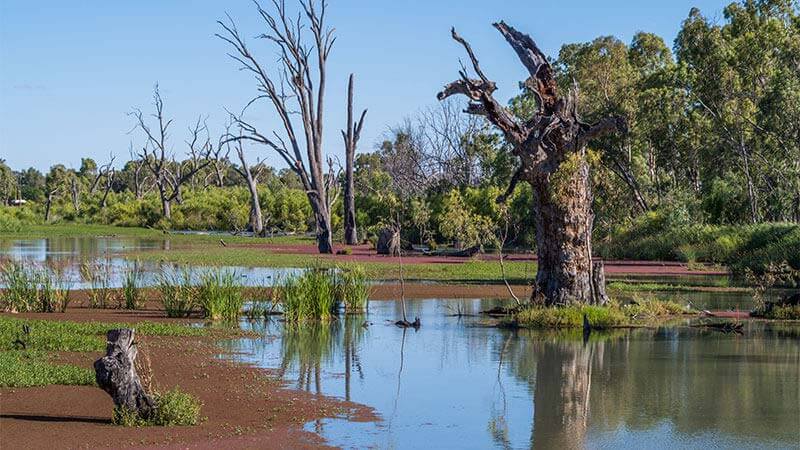 Western Australia
Margaret River
Margaret River is a small town south of Perth in Western Australia, known for wineries, breweries, surf breaks and whale sightings. Many of the beaches, campsites, wineries and breweries are dog-friendly, making Margaret River the ideal holiday spot to bring your dog. Depending on if your dog likes the water, you can take your dog canoeing or even stand up paddle boarding!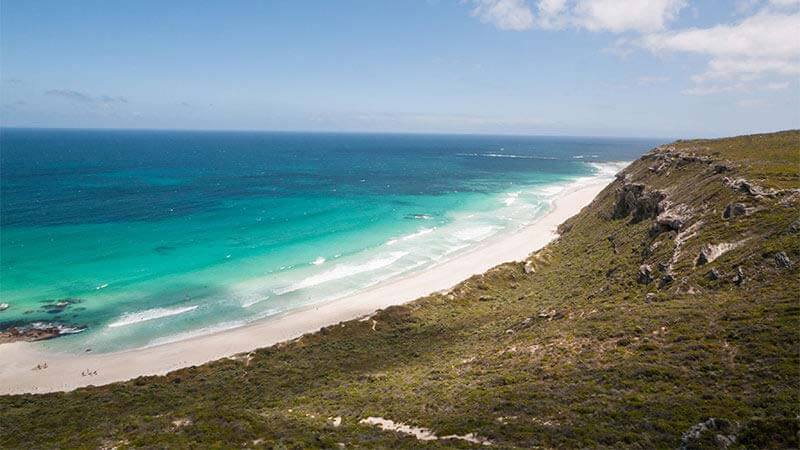 Cable Beach, Broome
Featuring 22 km of pristine white sands and some stunning views of the Indian Ocean, Cable Beach is a beautiful holiday spot that will keep the whole family entertained – from camel riding to lazing around on the beach watching the sun set. The Tarangau Caravan Park at Cable Beach has pet-friendly accommodation options and the beach itself has a few designated areas where dogs can exercise if they're on a leash. Remember to carry bags to clean up any waste your dog might leave behind.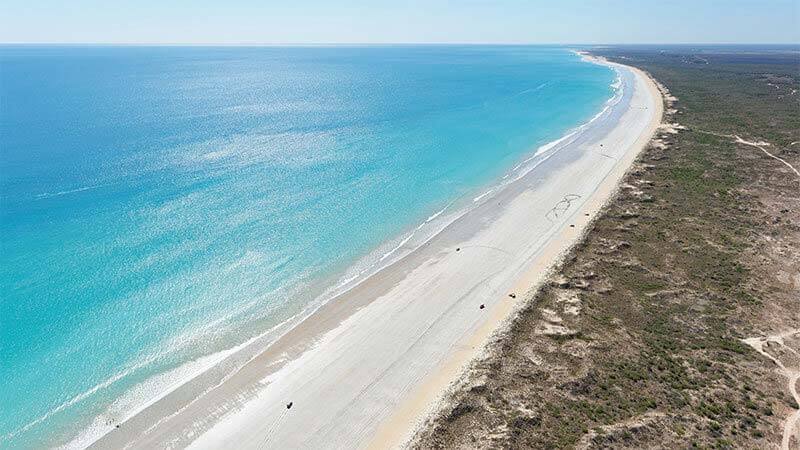 Home Valley Station, East Kimberley
In the midst of the Kimberley wilderness and at the foot of the majestic Cockburn Range lies Home Valley Station, an outback adventure playground offering two dog-friendly campsites. You can choose to set up camp at the Homestead or by the Pentecost River. Experience the locals rounding up cattle on the dry open plains, explore walking trails where you'll find waterfalls, billabongs, waterholes and towering gorges, and at night enjoy sitting around a log fire with your pooch by your side admiring the starry night sky.
Tasmania
King Island
Slightly north of Tasmania lies King Island, a place of immense natural beauty. Featuring Australia's tallest lighthouse, over 60 known shipwrecks, beach, camping and picnic spots, golfing spots, fishing spots and trails. If camping isn't your thing, there is plenty of pet-friendly accommodation available on the island.
City to the Royal Tasmanian Botanical Gardens Loop, Hobart
Tasmania is one of Australia's most beautiful states and its capital city of Hobart is one of the oldest cities in the country. Featuring some of the country's oldest buildings and situated close to Mount Wellington, it's a great place for a holiday. Within the city, lies a walking loop that takes you through the Royal Tasmanian Botanical Gardens while showing you some of the city's key cultural, natural and heritage features. You can walk the loop with your dog spending a lovely half day exploring the best parts of the city.
Other things to consider
Have the time of your life with your pet but remember safety always comes first.
Before you go
Dogs are susceptible to ticks that may be prevalent in many areas, and leeches and worms may also be a problem. There may be other concerns depending on the area you choose to visit. Consult your veterinarian and take the right preventative precautions.
Snakes and spiders are also a real risk in rural and wilderness environments, and even in populated areas. Learning to recognise the symptoms and how to treat your dog immediately after a bite is important.
On your trip
In areas where there are likely to be snakes, keep your dog on a leash and on the path. Don't let them enter tree hollows, scout under logs or rocks, or play with dead snakes.
Pack
Plastic poop bags
Leash
Collar with identification
Harness
Plenty of water and water bowl
First aid kit
Travelling with your curious canine can be full of unexpected risks. Consider protecting your furry travel companion with Pet Insurance.
22 Jun 2017