5 ways to live like a local and save on your next holiday Three-quarters of Aussie parents agree that holidays are getting more expensive, so when it comes to minimising costly flights, accommodation, tours and entertainment, it pays to make "live like a local" your travel mantra. Not only will you potentially save by avoiding pricey tourist traps, you'll also get to experience a destination's unique quirks and local vibe. This article details five easy ways to get close to local life on your next vacation.
Stay in real homes
Airbnb and house-swap sites such as Home Exchange allow you to stay in real homes and apartments at a variety of price points. Not only can you experience how the locals live, you can also save. In popular European destinations such as Berlin, Madrid, Paris and Vienna, the average hotel booking costs twice as much as an Airbnb stay. And in Sydney, the average hotel rate is around 28 per cent higher than an Airbnb rental.2
Staying in this style of accommodation is a huge plus for families travelling on a budget. In addition to the extra space, they'll have access to a fully functioning kitchen, which means they can prepare and cook meals to save on eating out. If you're travelling with another family, renting a house big enough for everyone also means you can share the costs.
Shop around for accommodation deals as price differences vary. In Barcelona and Austin, the average hotel stay is over $100 cheaper than an Airbnb rental. In London and Paris, Airbnb rates are over $100 cheaper than a hotel stay.
Eat like a local
Seek out where the locals eat for delicious food minus the hefty price tag. It can often be as easy as walking around the corner to cut your bill in half. For example, in Venice a cappuccino costs €15 (approx. $24) in St Mark's Square, but €3 (approx. $4.60) in a cafe in the Castello district a 10-minute walk away.
If feeding the family on holidays is starting to strain your budget, shop at the supermarket for muesli bars and nuts they can snack on while out and about between meals, or hit the local markets for inexpensive fruit and veggies you can take on a picnic or prepare back at your rented apartment to save on eating out.
Sampling new cuisines is often a holiday highlight, but it can also be key to keeping your costs down. Do your research on the best street food available at your destination. From $2 trays of satay skewers at Singapore's hawker centres to a $5 lángos for two in Budapest, some of the tastiest snacks can be found for less where the locals eat.
Don't take the pricey water bottle from your mini bar. Instead, buy some up at the local supermarket, or fill up where the locals do. In Rome, that's at any of the city's free drinking fountains, and in Budapest it's the fire hydrants that double as drinking fountains citywide.
Visit places of interest, not tourist sites
Where do the locals hang out in their free time? Save money and get a sense of the culture by getting off the beaten track and visiting places of interest rather than tourist attractions. Is there a free museum or art gallery in your area to discover? Spend a lazy afternoon people watching in a beautiful botanic garden with a picnic, or head out to the local market or street fair.
Australian parents estimate on average that taking the kids on holidays with them adds around $1,518 per year to their holiday expenses. Keeping costs down when it comes to daily activities and entry tickets is one way to control the family holiday budget. Take advantage of the outdoors with activities such as hiking, biking, and canoeing. They're not only fun, but may also provide an opportunity to see unique sights missed if you were to sit on an expensive tour bus all day.
Australian parents estimate on average that taking the kids on holidays with them adds around $1,518 per year to their holiday expenses.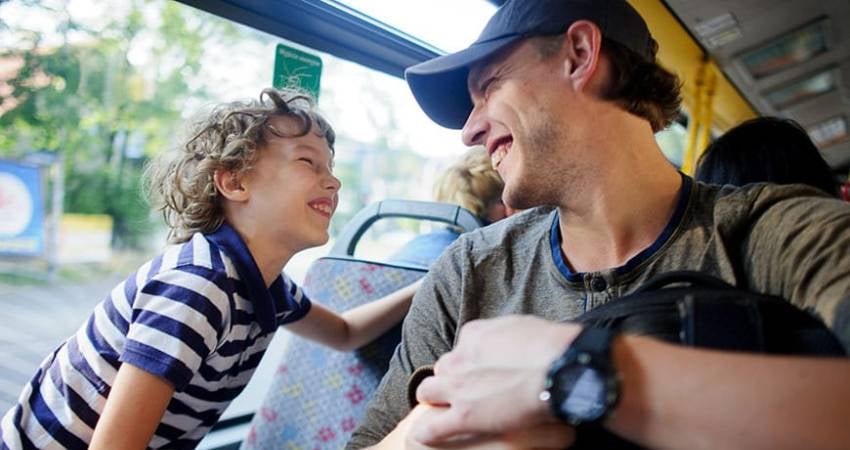 Use public transport
Use public transport where possible. You'll save money, and get great insight into your destination by spending time alongside the locals. A little research will put you in the way of free routes. For example, Brisbane has a free City Loop service for locals and visitors, while Perth offers passengers free Transit Zones for trains and buses in city zones. If you want to admire Sydney's famous harbour from the water, jump on the ferry with locals as opposed to an expensive boat tour – you'll enjoy the same views for a lot less.
Savvy travellers are taking advantage of ground transport operators that have exploded across Europe too. The popular Paris to Amsterdam route for example, which often costs $80-$200 one way by plane or train, costs $45 when you use The French rideshare service BlaBlaCar.
Spend more time in fewer places
When holidays are few and far between, it's easy to get caught up in being a "tourist" by squeezing as much in as possible. But when it comes to making your dollar go further, it pays to slow down and spend more time in fewer places.
According to Meg Collins from Travel Freedom Network, the two biggest costs in travelling are transport and accommodation. "By travelling slow, you lessen the need for frequent transport – and you can also negotiate with hotels/hostels etc. for a discount, because you're staying longer." Travelling slow will help you appreciate what's around you more, and give you an opportunity to discover unique quirks and free activities in your destination.
Living like a local when travelling provides ample opportunity to save. And with these five tips in mind, you'll also experience the true character of your chosen destination. Living like a local is a great way for families to save when travelling on a budget.
19 Apr 2018