Life expectancy in Australia: the full story Statistically, we Australians are a lucky bunch. We live longer on average than people in many other parts of the world, and we have access to a first class medical system. National averages, however, only tell a part of the story.
There are still many lives lost from illnesses, accidents and misadventure across different age groups. Young lives. Lives lost in the prime of life. And lives forfeited in the years when we are meant to be slowing down on work and taking time out to enjoy ourselves.
The average age of death in Australia in 2014 was 78.5 years for men and 84.8 years for women, compared to 71.4 years globally based on 2012 data. However, the ages at which people die is spread across a wide range. In 2014 for example, the number of deaths in each age group increased steadily as people got older.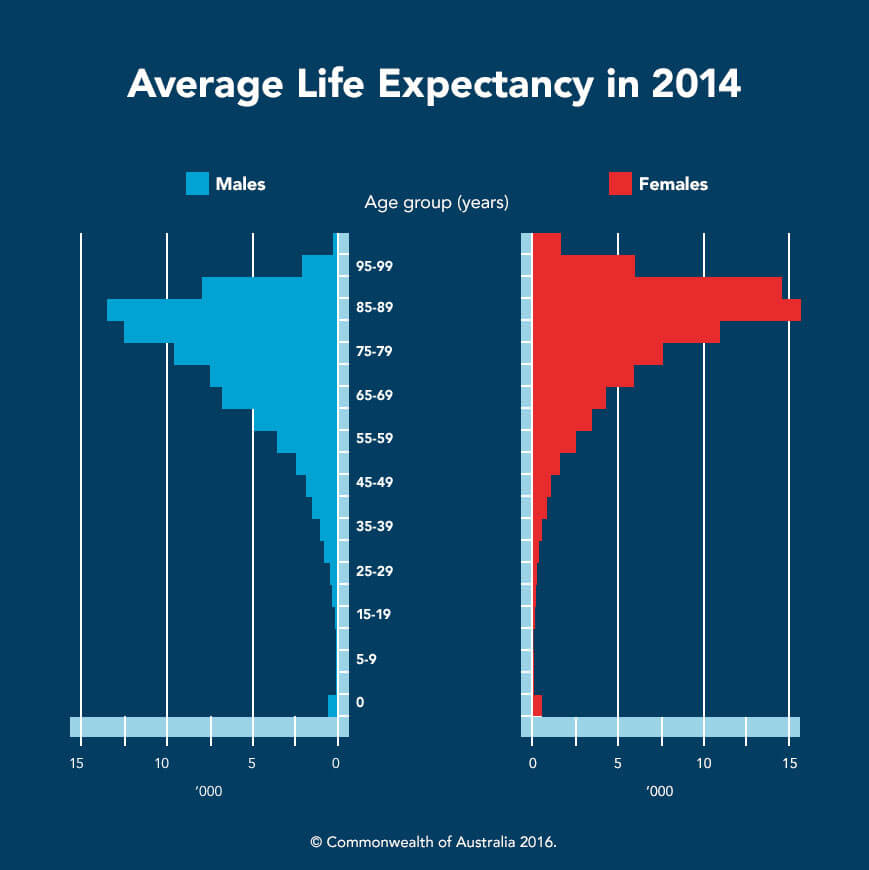 The average life expectancy in 2014 may be 78.5 years for men and 84.8 years for women, but as this distribution graph for the year shows, death is not owned solely by the elderly.
Life across the ages
To gain a better understanding of life expectancy in Australia, look beyond the single national average figure.
The World Health Organisation estimated that 26 per cent of Australian men and 17 per cent of women will die before their 70th birthday in 2012. It is probably that nearly one in 10 between the age of 30 and 70 will die from non-communicable diseases including cancer, cardiovascular disease, chronic respiratory disease and diabetes.
The Australian Burden of Disease study comprehensively looked at the impact of fatal and non-fatal diseases by age group and sex in 2011. The study included an analysis for Years of Life Lost (YLL): the estimated number of years of life lost due to premature death from disease and injury. The report found that in 2011, Australian's lost 2.3 million years of life due to premature death.
Fatalities under the age of 80 are major contributors to Years of Life Lost (YLL)
Source: Impact and causes of illness and death in Australia, p42 – Australian Institute of Health and Welfare
Cancer (34%), cardiovascular disease (23%) and injuries (14%) were the three biggest contributors to Years of Life Lost in 2011. A broad range of causes made up the remaining 29% including respiratory, gastrointestinal and kidney/urinary diseases.
From 15 to 24 years, injuries were the predominant contributor to premature death, then cancer at a lower percentage. Injuries included suicide or self-inflicted injuries, road accidents, poisoning and, to a lesser degree, drowning and violence.
Among adults 25 to 44 years injuries were a major contributor, although cancer and cardiovascular diseases played a bigger role with age. Suicide or self-inflicted injuries were the most common injury related cause for both men and women in this age group. Poisoning, road accidents and violence also played a large role.
In middle age from 45 to 64 years cardiovascular diseases and cancer became the biggest contributors to premature death.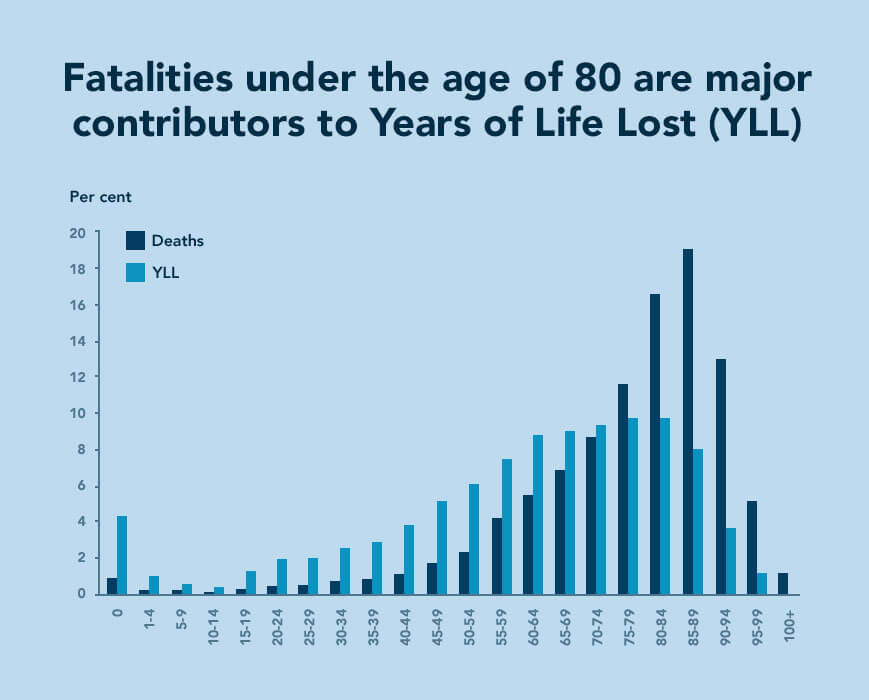 Cardiovascular diseases are a leading cause of death and illness in Australians.
Living into your 80s and beyond is a reality for many Australians. Unfortunately, injury and disease take the lives of many Australians too soon, leaving behind families in need of support.
Life Insurance can help your family manage financially when unfortunate circumstances strike. It can be used to pay the mortgage, school fees and day-to-day expenses. To protect your family, apply online today with Choosi.
13 Sep 2016